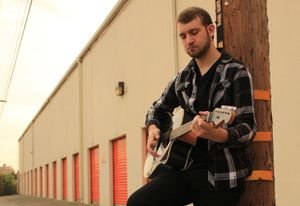 Originally born and raised in Bakersfield, California, Ryan Knecht picked up the guitar at the age of 14 and has since developed an undeniable passion for music. He started out self taught and learned how to start playing by ear. As his interest grew, he began taking private lessons with an instructor who graduated from Hollywood's Musician's Institute.  By the end of his high school years, Ryan was giving lessons to fellow students. 
After school, Ryan decided to pursue a musical career in Los Angeles. On October 1, 2012, he began studying at the Los Angeles College of Music (LACM) where he had the pleasure of working with some of the best professional musicians the industry has to offer such as Jody Fisher, Art Renshaw, Tony Inzalaco, Tim Curle, Ralph Humphrey and many more. These are people who have worked alongside Prince, Michael Jackson, John Scofield, Josh Groban, and many other greats of that caliber. LACM took Ryan far out of his comfort zone by exposing him to new genres and styles, new techniques and ideas, and put all of that to the test at a professional level playing alongside the aforementioned musicians. That would lay the foundation for everything Ryan would do creatively and professionally in the following years.
Ryan graduated LACM in March 2014 and immediately decided to expand his expertise into the world of music production. He began building a home studio and started taking lessons from a fellow classmate who was in the production department. Since then Ryan has been recording bands and artists, composing and film scoring, and recording and producing his own projects with a passion like no other.
After LACM, Ryan also began working with some of his peers that graduated with him. A cover band called Neon Dusk was formed where he got to work with the his lovely now fiance Sowparnika Raghuram and some other amazing musicians as well. From playing Jazz and Latin at restaurants to playing Rock, Pop, Funk, and RnB at bars, venues, weddings and public events, this project allowed Ryan to put some of the stuff he learned in school to use.
Among his peers were Ryan's fellow bandmates in his hard rock outfit, The World Over (TWO), which has seen a good amount of success since its formation in 2013. TWO was founded in Los Angeles to promote messages of hope and empowerment by musicians around the world. They released their first EP "Rampart District" in 2014 in collaboration with Omar Espinosa, former guitarist of Escape the Fate. In 2016, TWO broke the boundaries of rock music with their release, "Mountains", recorded with Siegfried Meier (Juno award winning producer of Kitty, DMX, and many more). Afterward they released a very emotional single entitled "Rewind Replay" which premiered on Alternative Press and has garnered close to 700,000 Youtube views. The band has played countless shows over the years sharing stages with Attila, As Blood Runs Black, Metal Cohen and many more. They have also played at the famous Warped Tour multiple times and toured nationally with the likes of Otep and internationally with Escape the Fate. Their most recent release is entitled "Elements" which gained 15,000 streams in the first week on Spotify alone.
Ryan will continue to pursue his musical passion for many years to come.